May 17th, 2012
Tripawds is a user-supported community. Thank you for your support!

My name is Suzie and I never knew Tripawds existed until I stumbled upon it a couple months ago.  I have my Rizzo who is a two and half year survivor of Mast Cell cancer.  I wish I would have known about this support group sooner as knowing you are not alone in your silly worries at times and that others have been there sure does help.
So I have been commenting on the forums and trying to help other pawrents of new amputees and figured I should start my blog page even though it won't be from the beginning of our journey……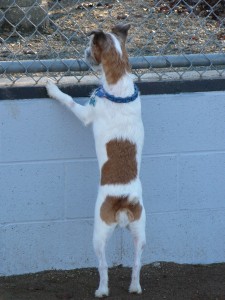 This was my last day at the park with four legs….right after Christmas in 2009.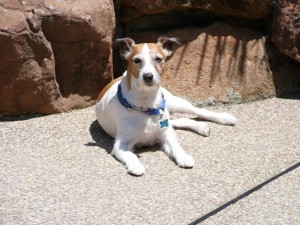 Rizzo didn't have any pain in her leg where the tumor was like bone cancer is.  So When she woke up from the vet visit with no leg she was not a happy camper and probably thought "what the hell"!  She had been feeling fine and just had a bump on her leg.  To her everything was fine.  The lymph node in her groin was aspirated and showed no mast cells so amputation was the way to get the cancer with enough margin and stop it in its tracks.  Seemed too simple.   During the amputation the vet tested several lymph nodes in her abdomen and they had mast cells already in them.  Soooo, the cancer had already began spreading.  It had just skipped that lymph node in her groin.
Chemo was the next journey after recovery…..