Tripawds is a user-supported community. Thank you for your support!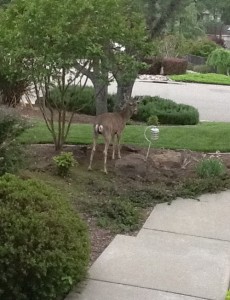 Rizzo, and her two monkeybutt sisters live in a subdivision, with houses lining the streets and not a lot of space between houses. Well evidently, the deer lived here first before all the subdivisions went in and the deer are not going to move any time soon.   We have been here for 14 years and there are more deer than ever.  Why should they move?   It's country club living for these deer….lush green grass to eat, beautiful plump blooms to pick, and the supply is never ending.  The deer make their rounds and usually end up bunking down for a snooze in our front yard.  Sometimes four, sometimes ten!
I don't mind sharing my front yard with the deer.  They are fun for Rizzo to bark at and she thinks they are soooo  dumb and scared of everything.  It makes her feel really bad-ass that these huge dog-looking creatures are scared of her…..a three legged Jack Russell.  Haha!
Well, last night, something different happened.  I took Rizzo out the front door (on the leash of course cuz of deer) and there they were.  Two of them.  Standing right in my front yard right by the walk way.  Oh boy…here we gooooo……yap, yap, yap, yap.   Hold on here.  She's barking and they aren't moving.  So I stomped my foot to get them to run away and nope that didn't work either.  Suddenly Miss Rizzo was not feeling so bad-ass any more.  They actually came walking toward me and Rizzo and started stomping their feet.  I know Rizzo was thinking….THEY ARE TRYING TO GET ME!  They are not big dogs!  They are monsters.
I picked Rizzo up and took her inside and laughed really hard. Rizzo didn't think it was funny.  She is the defender of our yard and those huge monsters have decided it's theirs when ever they want it.  So she had to peep and poop in the back yard but she could smell those monsters out in the front yard!  There must have been babies bunked down out there and these two deer were not even letting us out our front door.