Tripawds is a user-supported community. Thank you for your support!
Rizzo checking in and I figured you all need to know more about me so I need to introduce my two monkeybutt sisters I have to live with.  Sophie and Beans.
Sophie is a Miniature Schnauzer which to me is a fancy name for funny looking silver yapper.  She is 14 and was here when Mom and Dad brought me home as a puppy.  She used to play and romp and was loads of fun.   Everything was great, she taught me how to act right and how to bark at the UPS, Mailman, Garbage man, you know, all the important things a dog should know.   Most important, she was my best bud.  One day, about a year before Mom had my leg donated to science, the strangest thing happened.  Sophie woke up one morning and was running into walls and couldn't find her way and when we went outside she walked straight into the swimming pool.  I don't know if you know this but schnauzers can't swim, they go through the motions, but they sink like rocks.  I thought Mom was going to have a heart attack.  Mom took her that day to UC Davis Vet School Eye clinic and they diagnosed her with SARDS.  My poor sissy went blind over night.  So our sisterhood changed that day and we never played the way we used to.  We still snuggle though.  I didn't understand what happened and I still don't.   Here is a picture of Sophie, my big sister: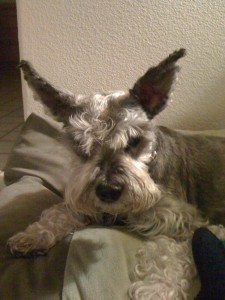 My other sister, Beans, is a whole different story.  She is a wack-job!  Mom volunteers at a Senior Citizens place and one day she came home with this crazy, freaked out, loon Jack Russell that some old lady couldn't take care of and she was going to put her to sleep.  My Mom wouldn't let that happen so she brought this crazy dog home.  I was hoping for just a few days but no….it was a long term forever type of thing.  She was 5 months old and was nuts.  She is now 6 years old and is still the same…..nuts.  She never stops running, jumping, freaking-out, whatever.   She is not a great relaxing roommate.  I guess I love her though, she does bring a lot of zip and zest to every occasion even if you don't want any.  I have tried to teach her to chill and she just doesn't get it.  Mom says it has something to do with her first five months of  life and what she went through at the old peoples place.  Oh well.  When Mom brought her home her name was Lady.   Hahahaha!   That name didn't fit her at all.  We changed her name to Beans and that fits her perfectly.  Here she is: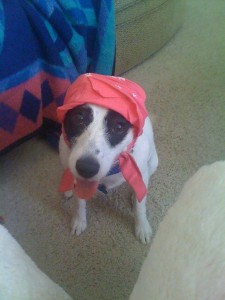 Here's a picture of Dad trying to sleep with Beans and Sophie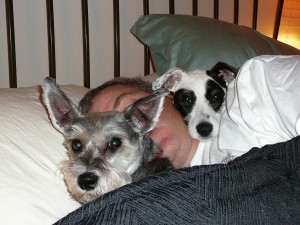 Well, that's all for today, gotta run and see if I can catch that bird that keeps teasing me in the back yard!