Tripawds is a user-supported community. Thank you for your support!
December 29, 2009
So amputation of the right hind leg is the answer from the oncologist and all my vets recommendations.  MAST CELL CANCER   Get it out of her and let's get on with living.  Rizzo came home after three days and had some healing issues and major pain issues.  First off, I don't know if she had ever been in pain and secondly just the looks of her site looked very painful.
On January 7 2010 they took her back into surgery and cleaned it all up and removed a lot of tissue that was not healing.  She immediately felt soooo much better and then began loving me again.  She was not a happy camper for quite a while until they fixed her all up with the second surgery.  Then some real convalescing began!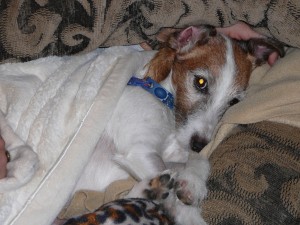 It would not be until February that Chemo would start but Rizzo layed low for the month of January and learned that she could do most anything on three legs…..even fight with her MonkeyButt sisters Sophie and Beans.  That's a whole blog post for another time.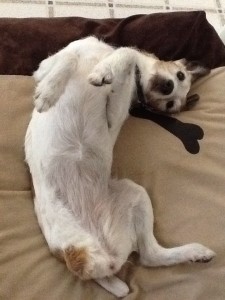 This is Rizzo today…..all lazy and healed up!!