Tripawds is a user-supported community. Thank you for your support!
We are all in the midst of the busy and crazy time of Christmas and in our house we too are celebrating the Joy of the Birth of our Lord. We are also celebrating the well being of our Brave and Courageous girl Rizzo for battling and beating this horrible disease of Cancer for Three Years.
It was the 10th of December, 2009 when we felt the lump on her outer side of her rear right leg.  Being a Jack Russell there is not a lot of meat on their bones or tons of fur so any lumps are easily noticed.  We also have a Miniature Schnauzer who has fatty lumps and bumps that move around and I always get them checked out , but I knew in the pit of my stomach that this lump, that was hard and did not move, was a different animal.
We went to our vet the very next day and he was doing the general check over and then he came to the lump and the look on his face gave me the same pit of my stomach feeling.  He knew too that it was not the fatty, "no big deal" type of lump.  He did a needle biopsy and came back with an ominous look that made me sick to my stomach.  He said the cells where large and looked to him like a cancerous type of cell.  We would know more once the biopsy came back and told exactly what we were dealing with.  We didn't even talk about options as I didn't want to know until we got the results back.  He did mention that in his experience the cells looked like a Mast Cell type of cancer.   So we went home and came back in three days for the results.
Of course, like all of us do, I came home and began to read and search and read and search all I could about canine cancer and Mast Cell cancer and survivability  and of course you fill your head with so much stuff it becomes all consuming and this is without even getting a firm diagnosis.  The biopsy came back as Mast Cell and the prognosis was good if we took care of the tumor quickly.  The Oncologist appt was made pronto.
So my little Rizzo  went from this pup in 2001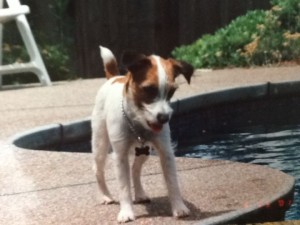 to this pup in 2009.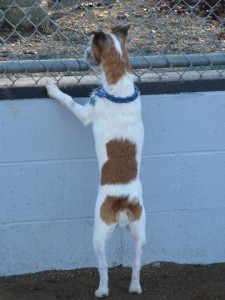 Now we were talking about amputation.   You can see the lump on the right hind leg.  Unlike Osteocarcinoma, Mast Cell is not painful to the dog, it's just lurking and spreading.  They have to take wide margins and with that boney little leg the margins don't exist, so the answer is to take the entire leg.  Unfortunately, the lymph nodes in her abdomen showed the cells had already began to spread.  So Chemotherapy was in Rizzo's future too.
Dec 29, 2009 Rizzo lost her leg, and began her life as a tripawd.  She could have cared less.  She just wanted out of that stinking hospital.  She made the vet tech's life hell for the next three days….barking every time they walked by.  Finally they moved her so she couldn't see anyone and that helped slow the barking or at least they couldn't hear her so much.  She was very glad to come home.   She had a rough time healing and never went at her amputation sight.  On Jan 19, 2010 they had to reopen the surgery sight and clean the entire area out of dead and dying tissue and resuture the sight.  She then began to heal properly.  She went through hell for the month of January and really never complained…..I did that for her.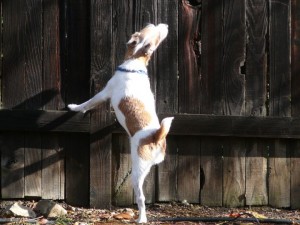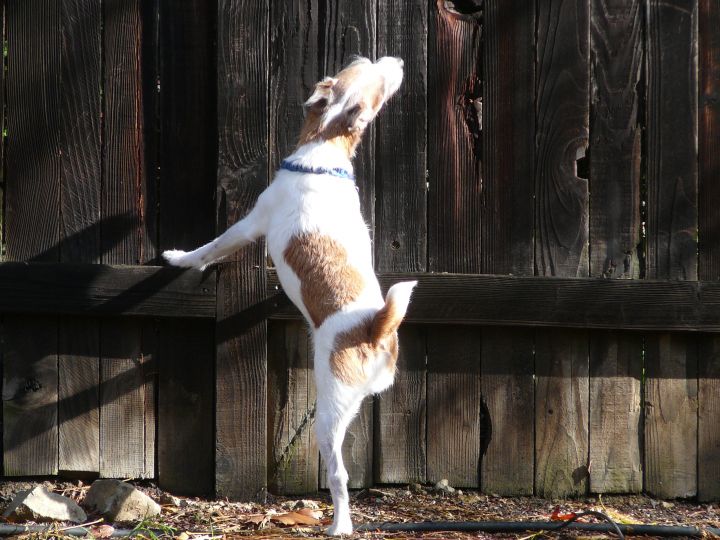 Beware, here are some of her pics that show how sore and yucky her amputation sight was before they reopened, cleaned and resutured her sight: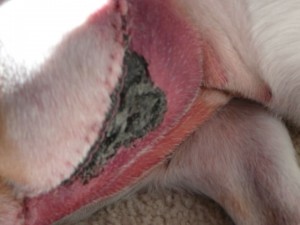 Tell me that doesn't look like it hurts.  She was such a trooper!!  I do have to tell you that through this whole ordeal, the bond between your dog and you becomes something that's hard to explain unless you've been through it.  I sure would not wish it on anyone.
I, unfortunately, didn't find TRIPAWDS.COM until the middle of 2011.  It was nice to find people who were and had been going through the same thing I had been going through for a year and a half.  The support sure would have helped me in those first few months of hell.   Hopefully, sharing my story will help others who will go through this journey some day too.  I don't wish this fricken Cancer on any Pup.
Rizzo went through Chemo starting in Feb of 2010.  Her Mast Cell was Stage II, Grade II at Biopsy.   Her first Chemo was Vinblastine and two weeks later was Lomustine.  Two weeks later was Vinblastine again.  Then two weeks later in March was Lomustine again.      The last chemo she had was Vinblastine.  With each Chemotherapy it is a cumulative effect. Rizzo did fine after all her treatments until her last one.
After the fifth treatment, her body said "NO MORE".   In one day, she became lethargic and I really thought those were her last days.  I took her right back in and her liver had gone into complete failure.  I began giving her the drug Denamarin for her Liver in the hopes of regaining some liver function and slowly her liver began to function again.  That is a great drug and is just a supplement!
We thanked the Oncology dept and have never been back to see them.  My husband and I feel that we have medically done all we can do for her procedure wise.  We have gone back to our regular vet for various pain meds to help control some issues with pain and anxiety that have cropped up in the last year.  Mast Cells floating around in anyone's body cause the release of histamines which in turn cause the body to turn on itself which causes uncontrollable itching and sores to crop up.  So a daily regimen of benadryl helps keep that in check. The histamines also cause the stomach to create too much acid which is controlled by a daily regimen of Pepcid.  Tramadol twice a day keeps her aches under control and sometimes she needs more.
All and all she is quite the amazing Tripawd Warrior Princess.  She refuses to give up and that inspires me to not give up on her.  She has had some down months where I wonder if this is the decline that we all know will eventually come.  With the help of my regular vet, sort of my hospice advisor, we tweak meds and get her feeling normal again and she keeps amazing us all.
That is always the question my husband and I ask ourselves…..is she happy, pain-free, and our old Rizzo?  Not a doped up Rizzo who is just existing.  That is when the decision to stop treatment comes into play.  She is and acts like our normal Rizzo…..feisty and spoiled and ruler of the house.  She still makes me laugh every day and loves life and her walks every day.  Not a day goes by that someone doesn't comment on what an amazing spirit she has.  I have to agree!