Tripawds is a user-supported community. Thank you for your support!
Well, we are in the middle of a typical NorCal summer and this last week it has been between 105 and 111 outside.  I am pretty much a country club type and enjoy my couch inside at 75 degrees except when Mom makes me go out to peep and poop.  I usually go outside in the fenced backyard.   I am not allowed to run free in my front yard as I lost those privileges many moons ago for not minding Mom.  So I get to go out in the front yard on a leash only sometimes.  I love our front because almost every time I go out there (either early in the morning or in the evening cuz of the heat) I have special friends out there.  They sleep in my yard and I don't bug them cuz they are very fragile and gentle.  Here are some pics of them:
and here is another one: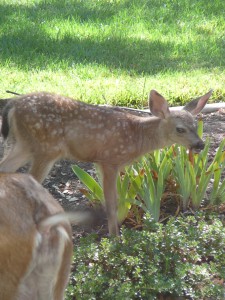 But I am also very quiet and gentle and because of the evil monster big Mommas that are sometimes with them that run after me and try and stomp my head!!!!! One just about got me one day…..scared the crap out of my Mom!!!   Hehehehe……I thought it was so funny to see how scared she was.  The baby deer are really cute.   I don't understand why those Mommies are so mean to me.  I would never hurt them.  I love my front yard….that's also why I am always on my leash in the front yard.   Here is the last picture of the evil Momma giving me the stink eye……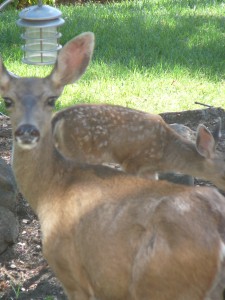 She looks mean doesn't she?