Tripawds is a user-supported community. Thank you for your support!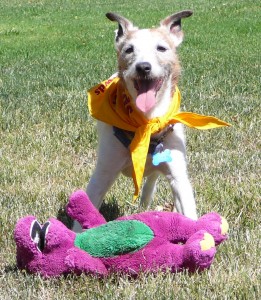 Summer is here in all its glory and Rizzo is massively depressed and refusing food unless it has some form of human touch of deliciousness added to the regular dog food.  I know that most of us Tripawd pawents deal with finicky eaters for various reasons whether it be chemo, pain meds, etc, etc, etc.  I can relate.   When I feel rotten I don't feel like eating either.  When I have someone hawking over me to eat I have even less of an appetite.  Maybe it's because I am "MORE DOG" every day.
Rizzo has always been a finicky eater, but since I put the Purple Beast, BARNEY, in the box and shipped it off, she is downright depressed.  I have looked online to purchase one…..no one has them.  I have dug some old stuffed animals out of the closet that were my daughters but none of those have that special "STANK"  as Diane (Maximutt) described it so perfectly.  So, it's a Barney hunger strike.  Actually, she is just back to her old self.  She just rallied because Barney was here.  She was so active and hungry and wild while he was here it was a rally.
Rizzo is in the palliative stages…..very inactive and I have to really try to fire her up for walks, so we are really just back to normal.  It was sure great to see that old crazy Jack Russell for a week or so though.  She is on pain meds full time as without them she has a really hard time getting comfortable laying down. She takes benedryl and pepcid every day as the mast cells spreading make her itch from the inside out and also creates too much stomach acid.
So Barney was a wonderful break in her routine and really helped her think about what she loves, instead of how crappy she feels.  Thank You for helping her feel like a dog again instead of a patient.  Also, thank you for helping me realize that I need to treat her like a dog instead of just a patient.   It's so easy to get stuck in that daily routine of pills, feeding, pills, etc, and forget about the park and running off leash and fetching the ball at the park.